IGCSE results are being released across the globe this week and many students are still considering what to do next, in order to best prepare them for their future studies abroad.
What if I told you that you could achieve your dream of studying abroad in Ireland or the UK without doing your A Levels?
It seems too good to be true, right? Wrong! There is an alternative pathway that thousands of students have taken to study abroad in order to progress to undergraduate programmes in some of the top UK and Irish Universities. It's called the NCUK International Foundation Year (IFY).
Why Choose the IFY over A Levels?
There are a number of reasons why you should consider choosing the IFY over A Levels:
Fast-Track to University: you can study abroad at leading Universities after successfully completing the 7-9 month IFY rather than the 2-year A Level programme. This saves a full year on your study plan.
Specialised Study Streams: The IFY programme offers pathways in Business/Law, Humanities, Engineering, Computer Science, Science or Health Science/Medicine. This means your study plan and tutorials will be specifically tailored to the degree programme that you want to progress to
Acclimatise to Western Study Practices Before University: The IFY gives you a year to adjust to living in a new country as well as western styles of teaching and academic standards, before starting your degree. You'll be much better prepared for studying independently at University, compared to going straight from your A Level studies in your home country.
What Will You Study?
You are probably familiar with the structure of GCE A Levels, whereby you choose three academic modules depending on which degree you are hoping to study at university. The IFY is no different – except that the three academic subjects you will study are pre-selected. In addition, the IFY programme also covers English for Academic Purposes (EAP). This provides a solid grounding of academic English for international students looking to study in Ireland or the UK.
In addition to EAP, you will study the following academic subjects based on your chosen study stream:
Where the IFY stands out compared to A Levels is in the development of transferrable skills. These are vital skills such as critical thinking, problem solving, study & organisational skills and ICT skills.
In a benchmarking study undertaken by UK NARIC in 2014, it was concluded that "the IFY programme develops a comparable range and level of knowledge, understanding and competencies" as the GCE A Level qualification. Therefore, "it can be considered to provide suitable preparation for undergraduate study".
Adapting to Western Study Principles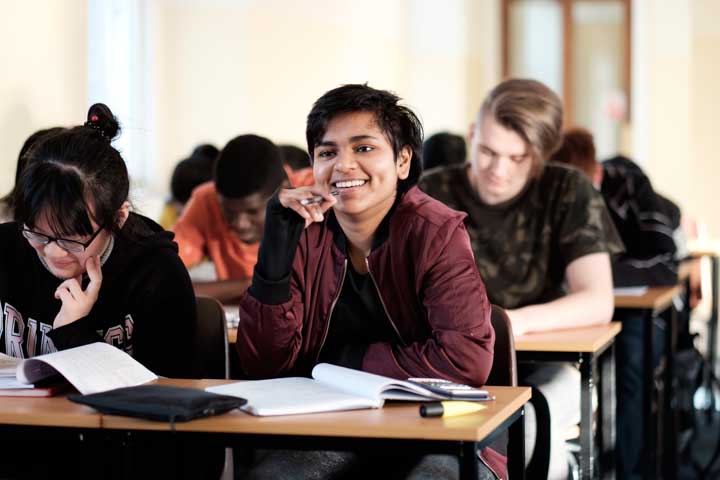 Another factor setting IFY apart from A Levels is the opportunity to adapt to a new culture and Western study principles. The focus of IFY is to help prepare you to succeed when you start your Bachelor degree, and this covers topics such as:
Referencing
Participation in class discussions
Presentation Skills
Time management
Report writing
Moreover, these skills will help you start on the right foot in your University studies – rather than trying to catch up during your first year.
Guaranteed Progression to NCUK Universities
Many students considering Foundation are concerned about the recognition of their IFY qualification for admission to University. However, the IFY was specifically designed by NCUK – a group of leading UK Universities – to help prepare you to succeed in your undergraduate studies.
The IFY is recognised by NCUK Universities in the UK and worldwide, most Irish Universities/Colleges and 9 specialist Medical Universities.
This means that you have guaranteed access to the DIFC / NCUK university partner network, once you successfully pass your Foundation studies. In fact, 100% of students who pass the IFY achieve a university placement.
At the heart of the IFY programme, is a strong focus on results – that is, a University placement. Therefore, from the moment you start your IFY studies, your teachers and tutors will be working closely with you. And, you'll be fully supported in your University applications. In comparison, during A Levels, you are largely left to navigate the university application process on your own – sometimes with a little guidance from your school counsellor, depending on your school.
A Quick Comparison: IFY versus A Levels
Here's a quick snapshot of how the International Foundation Year compares to A Levels
| | | |
| --- | --- | --- |
| | International Foundation Year | British Council A levels |
| Length | 7-9 months | 2 Years |
| Recognition by Universities | Formal partnerships with over 40 university partners across Ireland, UK and worldwide. | Recognised Internationally. |
| Study streams | Business & Law, Science, Engineering & Technology, Health Science (Medicine). | Students select individual subjects. |
| Subjects | Three academic subjects related to study stream plus English for Academic Purposes. | Three subjects chosen by student. |
| Orientation to Western Study | Yes | No |
| Recognition for Admission | Accepted by partner universities in Ireland, UK, USA & Australia, however students have also progressed to a wide range of non-partner universities. | Broadly accepted for University admission internationally. |
| University placement | Guaranteed for all students who successfully pass IFY. | Must apply individually. No guarantee of University place. |
Find out more about how the IFY can help you here